NO MORE BUSH TOUR 2008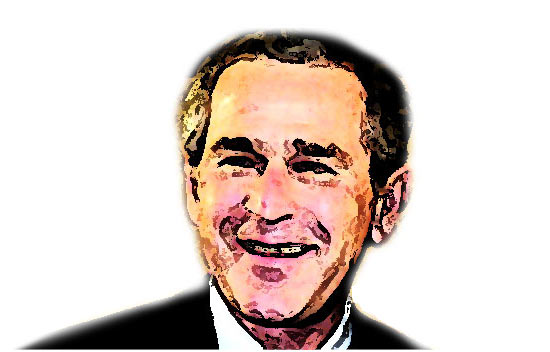 Five years ago, in a time of woe for the underground, the country and the world, the members of the Ecstatic Yod Collective organized a tour called More Hair Less Bush. Including a variety of musicians and writers, the tour brought the flame of hope to cities cast into darkness by the hideous secretions of the Bush Twins.
Now, in 2008, as we prepare to enjoy thelong-promised fruits of regime change, we felt it was time to bring our show on the road again. But this time, rather than offering balm and apologies to the psychically wounded, we would like to celebrate the pre-dawn of a new day -- a day when the word "cheney" is once more an empty phrase we use to terrify youngsters.
To this end, we have assembled a revolving cast of musicians and writers, all of whom honk the horn of freedom with both hands. We trust it will be a gas.
Trinkets will be available at all shows. Tour schedule and bios follow. Support is being provided by Ecstatic Peace Records & Arthur Magazine.
Info/photos/etc: glasseye@yod.com
---

NO MORE BUSH BIOS (PERFORMERS APPEAR ONLY AT SHOWS NOTED)



50 FOOT WOMEN (all shows) is a San Francisco-based duo with Jessi Leigh Swenson and Elaine Barry Kahn. Swenson is known for her trance-forming work with the Believers and Duck, Kahn is a wild card. Combined, they create and destroy small forms with the ease of kettle fish. They promise to have several secret weapons up their sleeves.

AXOLOTL (all shows) is the ghost-wolf of New Jersey and all points west. Currently resident in the head of Karl Bauer, this ghost takes many forms, and uses many tools to do its jobs. On this tour, there is a functional involvement with several things. Psychedelic? You bet!

TOM CARTER (Philadelphia only) will be performing outside of Zaika on this evening. See the Zaika listing for further details.

BYRON COLEY (all shows) is a writer from Western Massachusetts. His organizational abilities are dwarfed by his capacity for letting a participle hang. He is a veteran of the More Hair tour.

LOREN CONNORS (New York City only) is one of the great string inventors of our age. Precision stellar blues, played in the Martian style, for the pleasure of all. A veteran of More Hair.

DREDD FOOLE (Florence only) is the legendary Vermont singer, whose power-meditations for throat and fingers more or less defined a secret generation. For this event he will be performing naked and glistening, stripped of everything but his acoustic guitar. A More Hair veteran.

PAUL FLAHERTY (New Haven only) is one of the progenitors of the free New England concept, which is something that he along swung with for many years. Now, finally, heralded as one of the permier sax-thinkers of the era, he prepares himself for action. Paul is a veteran of the More Hair tour.

JAQUI HAM (New Haven only) was a founding member of the No Wave group, UT, whose trajectory across 1980s was a magnificent thing to behear. More recently, she had lead Dial into discordian chop shop jungles with equal applomb. This is a rare stateside gig.

MATT KREFTING (Florence & New Haven only) is a Lou Reed devotee from Western Masschusetts. His projects include Believers, Duck, Son of Earth, Shackamaxon, and so on. A tireless performer and elegant hambone, he will be reading from new work.

DAMON KRUKOWKSI (Somerville only) is one of the best-regarded men of letters in all of showbiz. He is perhaps most lauded for his musical performances, but his writing is an lovely extension of a mind tuned to the Intelligence Network. Tonight, he will rants

WILLIE LANE (Philadelphia only) is a current resident of Pennsylvania, but his teeth were whittled in the snowy wilds of New England's ice clouds. He has involved himself with such combos as Rotch and MVEE's Golden Road. Tonight his blare is of the Gutbucket variety. Power on.

TOM LAX (Philadelphia only) is the guiding light of the Siltbreeze empire - the 'zine, the label, the blog. He is a stone genius and we hope we have convinced him to read this evening. His voice is akin to that of Mel Torme's - golden fog wrapped in a tuxedo.

THURSTON MOORE (Florence only) will be wearing his authorial hat this evening. His writing has been called "tall," by more than one critic. He survived the More Hair tour.

JOHN MORTON (Albany only) is legend that begins in Cleveland, with the Electric Eels and spasmodic guitar art bonged against the arc of the infinite. Later, in Brooklyn, these inpulses devolved into more insanity and writing and art and phlug. Now, here he is again. He promises a theremin. Think fast! A veteran of the More Hair process.

MV+EE (DC, Baltimore, Philadelphia,New York City only) will be a stripped-down duo this go-round. Matt, Erika and Zuma, caterwauling into the dark jug of night. As only veterans of the More Hair tour can.

BILL NACE (Somerville & New Haven only) is an itinerant guitarist in the improv-minstrel mode. His best known projects are Vampire Belt, X.O.4 and Northampton Wools, but he is happy to work without a net in a variety of settings.

GARY PANTER (New York City only) is best known as a visual artist, but his additions to the shelves of writage and music-making are not insubstantial. Not sure tonight if he'll be whistling ot playing ot reading or what. He is no timorous bloke. He is a vet of the More Hair events.

CHARLES PLYMELL (Baltimore, Philadelphia, New York City only) is a one of the great writers of our age, and a ferociously talented/opinionated editor, publisher and reader as well. Based for the last few decades in Cherry Valley, NY, Plymell's evil eye and exquisite grasp of language and image are a deadly combination. It's always an extreme pleasure to hear him read. A veteran of More Hair.

ROXIE POWELL (Baltimore only) is one of the great secret poets of the Kansas vortex. A lifelong friend of Charles Plymell, Powell has released only four small books over the years, but each is coated with diamonds and wheat. If he deigns to read, we will all be happy.

JACK ROSE (all shows) is one of the pre-eminent geniuses of acoustic guitar creation and dissemblage. In the years since he left Pelt, Jack has toured and recorded incessantly, inventing moves that would make past masters blush. His fingers are magic fever generators.

SUNBURNED HAND OF THE MAN (Somerville only) is like an organ, waiting to be squeezed by god's own hands. Mutable to an almost insane degree, the music & line-up can vary from electro-krank duo to massed tub orchestra. Whatever will it be tonight?

BOBB TRIMBLE (Somerville only) is the Marc Bolan of Wormtown. His first two albums, recently reissued, are classics of mystery-webbing. The unveiling of his new direction is eagerly anticipated.

KATE VILLAGE (Albany & Somerville only) is one of the most savage guitar players our planet has yet produced. Her most blues-wailing style with Crystalized Movements, Vermonster, B.O.R.B., Magic Hour, Major Stars and solo have made her an ikon to the youth of every nation. Watch her bring it to the masses.

MIKE WATT (Philadelphia only) is going to try to make this date during one of the Stooges' days off. His bass playing is the food of love, his writing a manic blast of frayed orgone trembling. Tonight, if possible, he'll back Charles Plymell.

VALERIE WEBBER (all shows) is a Montreal-based writer whose poetry and prose combines a naive belief in perefection and a wise-ass sneer at its collapsing facade. Her work has been widely published in Canada and the U.S., and her voice has a soft purity, oftimes at odds with its content. She is a veteran of the More Hair tour.

WOVOKA (Albany only) is an upstate channeler of mystery-volk in all its drugged and writhing splendor. Rarely spied except through a cloud of basement smoke, their vibes are their amplifiers.

ZAIKA (all shows except Phildelphia) is a duo comprised of Marcia Bassett and Tom Carter. Both are long-time and very active members of the American underground scene: Marcia with Uns, Double Leopards, Shackamaxon, Hototogisu, GHQ and others; Tom with The Mike Gunn, Charalambides, Badgerlore, Friday Group, Kyrgyz, Spiderwebs, etc. Together, they create very special kinds of silver cloud eruptions.

ZAIMPH (Philadelphia only) is the name under which Marcia Bassett operates as a solo entity. But her reach is so long, she is never alone. She will performing outside Zaika this evening.

ZIAMALUCH (Albany only) represents the bridge between ERL and Burnt Hills in terms of Albany's underground continuum. Unseen in public since opening a gig for Universal Indians, Ziamaluch once again scales the scales.

NO MORE BUSH TOUR DATES
FRI AUG 1, 7:00 PM sharp
Artifacts 21st Century, 28 North Maple Street. Florence MA 413-320-9480
Zaika
Jack Rose
Valerie Webber
50 Foot Women + Axolotl
Byron Coley
Matt Krefting
Dredd Foole
Thurston Moore


SUN AUG 3, 7:00 PM sharp
UAG Gallery, 247 Lark Street, Albany NY 518-426-3501
Zaika
Jack Rose
Valerie Webber
50 Foot Women + Axolotl
Charles Plymell
Kate Village + John Morton
Wovoka
Byron Coley + Ziamaluch


MON AUG 4, 8:00 PM sharp
PAÕs Lounge, 345 Somerville Ave. Somerville MA 617-776-1557
Jack Rose
Valerie Webber
50 Foot Women + Axolotl
Byron Coley
Kate Village + Bill Nace
Sunburned Hand of the Man
Damon Krukowski
Bobb Trimble


TUES AUG 5, 8:00 PM sharp
CafŽ Nine, 250 State Street New Haven CT 203-789-8281
Zaika + Paul Flaherty
Jack Rose
Valerie Webber
50 Foot Women + Axolotl
Byron Coley
Matt Krefting
Bill Nace + Jacqui Ham


THURSDAY AUG 7, doors open 9:00 PM
Velvet Lounge, 915 U Street NW, Washington DC 202-462-3213
Zaika
Jack Rose
Valerie Webber
50 Foot Women + Axolotl
Byron Coley
MV+EE
+ special guest tba


FRIDAY AUG 8, 9:30 PM sharp
Tarantula Hill, 2118 West Pratt, Baltimore MD 410-945-7825
Charles Plymell
Zaika
Jack Rose
Valerie Webber
50 Foot Women + Axolotl
Byron Coley
Roxie Powell
MV+EE


SATURDAY AUG 9, doors open 7:30 PM
A secret location in Philadelphia 215-694-5861
Charles Plymell + Mike Watt
Zaimph
Tom Carter + Willie Lane
Jack Rose
Valerie Webber
50 Foot Women + Axolotl
Byron Coley
Tom Lax
MV+EE


MONDAY AUG 11, 8:00 PM sharp
Knitting Factory, 74 Leonard Street, NYC 212-219-3132
Charles Plymell
Zaika + Loren Connors
Jack Rose
50 Foot Women + Axolotl
Valerie Webber
Byron Coley
Gary Panter
MV+EE