July 19, 2007

ECSTATIC PEACE presents:
MV & EE with The Golden Road "Gettin' Gone"
Release date: October 9, 2007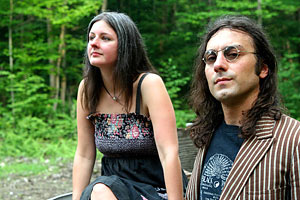 Still riding high on the glorious steed that was Green Blues (heads are still processing its smoked grooves and wild-at-heart paeans to love and kosmiche carnality), Matt Valentine and Erika Elder entered a Western Mass studio armed with enough fresh material to choke a whole team of horses. You may ask, "how can this be?" Well, since recording their Ecstatic Peace debut the duo has toured extensively, all the while writing tunes, scavenging esoteric guitar equipment & revamping their backing band to suit the environment of Gettin' Gone . A new sound has organically evolved that will most certainly astonish listeners new & old, but still find a special place on the formidable shelf of their back catalog. So rejoice in this disc, which boasts some of MV & EE's most finely-crafted songs to date and along with The Golden Road present a feast of tones & riffs that will stick to your ribs for a long time.

Like its predecessor, Gettin' Gone is a family affair of like-minded freak and friendly hair waves. Most fascinating is the Ecstatic Peace soundboard premier of Zuma, one of the coolest dog minds north of New York City. Also the one part golden addition of Doc Dunn and the harmonium magic of Luisa, she of Mascis child. Oh and J his self blams some mountain heavy drumming on a few of these tracks. Matt and Erika's devotional dharma is open to all true vibes of rock n' roll and folk n' roots ramble both tender and tuff.

Witness:

Susquehanna (sole art trample) comes ripping hot off the electromagneto recording heads with fat sizzling bacon guitar slash and features long running MV & EE cohort Willie Lane laying loose his mystery electric blues foundation lines driven by J Mascis stick play. Erika's vocals are sweet weeds tickling yr heart, "Susquehanna I'm comin' home to you..."

The Burden enters with some of the most alluring and gentle acoustic and lap guitar moves MV & EE have ever graced us with. Matt's singing and lyrics are stunning and when he lays down the final extra-fried guitar lead you will pass out. "Set some bars on fire, even burnt our hair, and I still love you even when it pours."

Hammer is a helluva jammer with Sunburned Hand of The Man buds John Moloney and Ron Schneiderman slowly killing on drums and bass while Erika lays down a request no one should ever deny. "If he asks you was I runnin', tell him I was flyin'..."

I Got Caves In There is a psychedelic set of Matt sung verses each book ended by the ghost-angel voice of Erika with spare acoustic guitar and pedal steel sweeps dripping with inside lysergic lostness. Blink and it's gone. "I got caves in there and fragments of bone."

Mama My is pure Danny Whitten punk and majesty again measured nicely by J Mascis drum action connecting heavy with the good coma slow doc tumble. "...All I breathe is green."

Day & Night is a five-minute beauty with Matt's bantar (modified banjo>sitar) and swarsangam, Erika's bowed dulcimer, Doc Dunn's pedal steel and the sweet singing of Luisa's harmonium. A real time folk cobalt jammer involving text message anxiety, "if the blues don't kill me then the living will."

Easy Livin' strides from the gate gentle but has the underlying psychedelic fire of Willie Lane's snaggle-guitar warming it's bed,the kinda superior burn the discerning COM listener grooves on. "I raised alotta synapse like megabux."

Colaed Out is made more resonant with the amped fuzz bass of Samara Lubelski who has rode the rails hard with this troupe for some time. This track is a rambling burner, an open chapter of Matt's eye on the elusive yet beguiling figure of one Cocola. All kinds of thought-shard dropping from the sonic ceiling here. Beware. "...this one is for mike watt and the creek, yeah kill that shit..."

Speed Queen is a killer search light tune. The quest of the rock n roll animal. With Mascis drumming. And Matt 's enigmatic lyrics on emptiness and re-fuelling are classic. "Sometimes you can't get there fast enuff to slow down."

Motorin', like Colaed Out, barely busts the 2-minute mark but unlike the full group grope of that track this is just the sweet core duology of Matt and Erika with some hip party ghosts. "How I miss runnin' around catchin' rays and thinkin' about the days."

Country Fried is an extended MV & EE duo take, unfolding sky miles of musical grace with the doc adding superior north country rural color. A good three quarters of the way through they start chopping some real country oak and lay down one of the heaviest, killer grooves in their cosmic catalog. "...and every stone that is thrown must fall."

Home Comfort is all New England haze and hallowed hill evocation, again the primary core duo of MV & EE breezing and seeking and psyche-mind contemplation. A stirring track. "The glare near packers corners where we would run to catch a moonray and cocola is sum."

Sweet People is back porch rock n roll holler "Hey all you people!" with Erika laying down a completely charmed vocal. Mascis on drums and Willie lane on guitar, Doc in the lows, and the cosmic dog mind of mystery spirit Zuma on 'bells' make this track a kiss to the sun, the clouds, the earth and the sweet heads that come to visit down the dusty blues road MV/EE call maximum arousal farm. Righteous. "Gonna ride and ramble 'til my cherry comes back home."
These tunes were recorded spring and summer 2007 with a whole lotta good vibes, we hope you'll sail with them.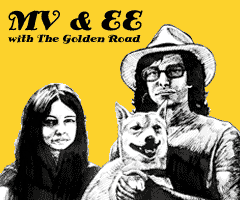 MV & EE with The Golden Road "Gettin' Gone"

1. Susquehanna (sole art trample) 5:08
2. The Burden 4:42
3. Hammer 7:49
4. I Got Caves in There 3:53
5. Mama My 5:19
6. Day & Night 5:37
7. Easy Livin' 4:41
8. Colaed Out 2:07
9. Speed Queen 6:56
10. Motorin' 2:02
11. Country Fried 8:50
12. Home Comfort 4:54
13. Sweet People 4:54

MV:Acoustic and Electric Guitars, Harmonica, Bantar (modified banjo>sitar), Swarsangam, Bass, Octave Divider Bass, Mellotron, Vox
EE:Cocola Firebird, Lap Steel, Bowed Dulcimer, Mandolin, Vox

Willie Lane: Guitar
J Mascis: Drums
Ron Schneiderman: Bass
Samara Lubelski: Bass
John Moloney: Drums
Doc Dunn: Pedal Steel, Resonator, Bass, Drums, Vox
Luisa Reichenheim: Harmonium Zuma: Bells

Tunes: Matt Valentine & Erika Elder
Recorded, Engineered & Mixed by Justin Pizzoferrato at Bank Row (Greenfield, MA) & Bisquiteen (Amherst, MA)
Produced by Matt Valentine
2007 Ecstatic Peace All Rights Reserved

Click here for an audio interview with MV & EE by Jethrow Keane of the Liberation News Service




---

Out Now: Turbo Fruits, Wooden Wand CD + LP, Leslie Keffer LP, 16 Bitch Pileup/Mike Shiflet Split LP

Coming Soon: Thurston (9/18), Magik Markers (9/25), MV+EE (10/9)

Also: Little Claw LP, Sightings LP, Poor School LP, Tusco Terror/Emeralds Split LP, Okkyung Lee, Islaja, and more...
That's it for now. Thanks for the support. Tell us how we can help.

Andrew
andrew@ecstaticpeace.com



© 2007 Ecstatic Peace, LLC